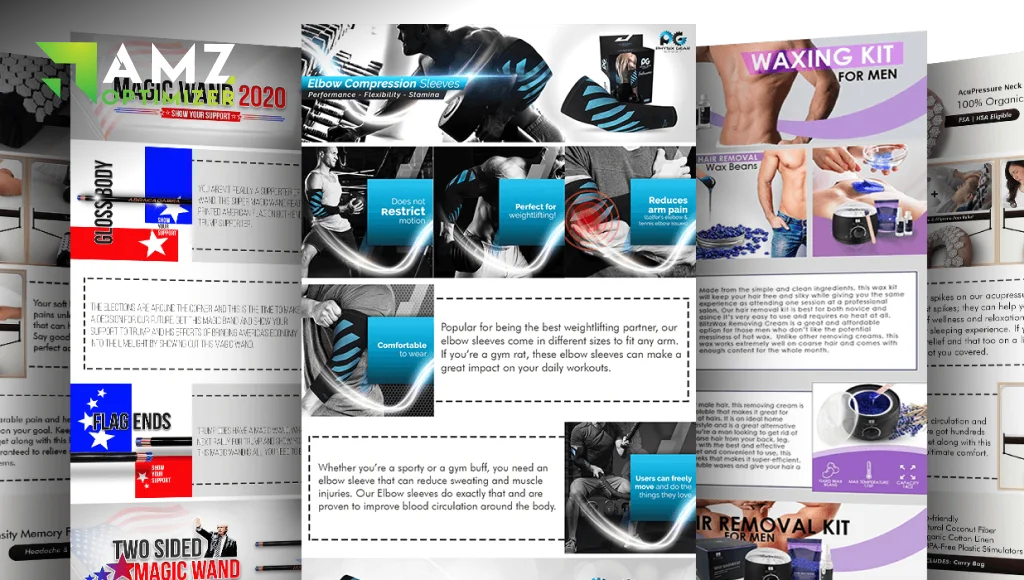 August 15, 2023
Some Secrets For Creating Enhanced Brand Content That Captivates Your Audience
Creating Enhanced Brand Content is the most effective tool for building strong connection with your customers. With Amazon Enhanced Brand Content, you can build your brand loyalty and win your customers trust by providing them with top-notch product listings.

Therefore, in this article we will discuss how you can achieve Amazon EBC to grow your seller profile and brand visibility and tips to stand out from your competitors.
What is Enhanced Brand Content (EBC)?
EBC stands for Enhanced Brand Content, also known as A+ OR A++ content. EBC is a feature that is available to every Amazon seller. Sellers can use them to create high-quality, appealing, and engaging content. With enhanced brand content, sellers can create high-quality images, and other multimedia elements to showcase their product features and benefits.

EBC is the most effective tool that can help sellers to increase their brand visibility, conversion rates, sales, and impression on Amazon.
What is the difference Between EBC, A+, & A++ content?
The A+ content or Enhanced Brand Content is almost the same. EBC was previously only available for Seller Central, while A+ content was for Vendor Central. But now EBC and A+ content have been merged and can be found on Amazon sellers.

While A++ content, also known as Premium content, is exclusively available for luxury brands and high-tech brands. It is similar to EBC or A+ content but includes more features than them, such as HD videos and extended product description content.
Eligibility Criteria of Amazon EBC:
Every seller wants a rich, highly engaging product listing, but to get it, you need to make sure you're registered with Amazon Brand Registry and meet all Amazon brand criteria. Your product must be registered on Amazon's Sellers or Vendor Launchpad. After following all the guidelines, you can now also use Enhanced Brand Content for your brand or product.
Practices to Achieve Enhanced Brand Content on Amazon:
• Define your brand:
While creating enhanced brand content, understanding your brand mission, and goal is necessary. You must need to identify what are the unique things of your brand and how it will help the customers. These are the things that customers questions when seeking for any brand or product. So define your brand objective and purpose in detail.

•Understand your audience:
It is very obvious that not every one will relate to your brand. There will be some who have got nothing to do with your business which means they are not your target audience. For instance, you sell women clothes. So your target audience is women, girls, teenagers. Therefore, when you write content for your product specifically target those who are related to your product by naming the gender, feature, and how your product is reated to that particular person or thing.

This is another step to get closer to Enhance Brand Content.

•Craft compelling headlines:
Headlines are usually bold, and in large fonts. So they are more prominent to the audience than the listing or description. If you create highly engaging headlines and tell all the highlighted features of your product in headlines, your product sales chances will likely to increase. Thus, Amazon will also show your product in top searches. Your product headline must include:

1.Brand name.
2. Color and size.
3. It should be concise and short.
4.Make it simple.
5.Add some instant benefits and action words.
6.Or you can also see your competitor's product headlines to get an idea.


•Create engaging visuals:
Images, no doubt, tell more about your product. Through images, audiences see all the features of your product, and they also get an idea of how to use it. But all this is possible if you capture the images of your product and showcase them in a blur-free, clear, and attractive way. To give your customers a physical feeling of your product before they buy it, use traditional photography or 3D rendering for your brand. This way, you can increase your brand's visibility and beat your competitors.

•Craft compelling copy:
In this section, you define your product. You tell your consumers about your product in detail, like its colors, availability, sizes, material use, how it is beneficial to them, and so on. Therefore, use action words and highly specific words to convince your customers to buy your product.

•Optimize your content for SEO:
While creating engaging and appealing content, don't forget keywords. These are the words or phrases that optimize your content and not only optimize it, but through these phrases, customers land on your site if you have used them wisely. Keywords can be short-tail keywords or long-tail keywords. Use both types of these keywords:

Short-tail keywords are the broad keywords, and these could be your product name, brand name, or synonyms.

Long tail keywords are the specific keywords. These are the words that describe your product, like woman's aesthetic black watches".

•Promote your content:
Use social media marketing, paid advertising, influencer marketing, email marketing, and other tactics to promote your content for enhanced brand content.


Use these strategies to achieve enhanced brand content for your product or brand. Syndicate your content on third-party websites or blogs to promote your product's reach and visibility. Use keywords to optimize your content, but make sure you didn't put too many keywords, as keyword stuffing decreases your brand's value. However, do thorough research for keywords. You can also use keywords from Amazon search results related to your product and the alternatives to it.



Benefits of Enhanced Brand Content:
• Increase engagement By creating high-quality, engaging content, you can attract audiences towards your product and make them want to buy it.

• Increases conversion rates: A+ content persuades customers to sign up for your brand, newsletter, or make them buy your product. Thus, your brand's conversion rate will increase.

• Increase brand recognition: Highly appealing and compelling content allows you to stand out from your competitors, and your brand recognition and loyalty also increases.

• Optimize SEO: By creating high-quality, engaging content, you can attract audiences towards your product and make them want to buy it Enhanced Brand Content is also optimized for product SEO. High-quality visuals, engaging contents, and the use of keywords improve your brand's first impression and optimize your brand's SEO.

• Better customer experience: The purpose of enhanced brand content is to provide audiences with valuable content. These could be images, videos, product listings, descriptions, etc. As a result, your product sales will increase, and your brand's reputation will also increase.


Amz Optimizer's Enhanced Brand Content Services:
Unlock your enhanced brand content now with Amz Optimizer professionals. We can make your boring bullet points interesting and highly engaging. Not only this, our EBC templates will assist you in increasing your product sales by up to 10%. We can help you grab your customers attention and keep them engaged by adding a little spice to your product listing.
Conclusion:
Follow these methods to improve your brand's reputation. With enhanced brand content, you can increase consumer trust, brand loyalty, and the number of repeat customers. EBC is a strong tool that should not be overlooked by any seller since it can rapidly boost your brand's popularity.